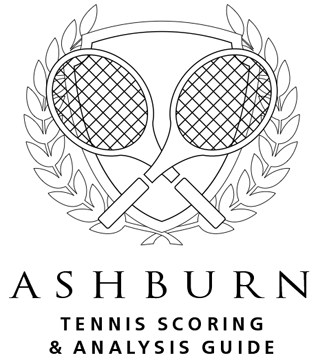 Finally!!  A tennis scorebook & organizer for individual tennis players! 

 TheTennisOrganizer.com is an All-in-One Tennis Score Book that allows every competitive player to:

 Chart & analyze 60 sets point-by-point using an intuitive & powerful tennis score sheet system – know what is working & fix what isn't!

 Plan & schedule tournament entries

 Scout opponents – detailed charting helps formulate winnining strategies

 Record tournament match results

 Maintain a 52-week training diary & journal

 List contact information of players for warm ups & doubles

 Even itemize expenses & have a pre-match packing checklist.
All of this is contained in one scorebook – a definite advantage!
  TheTennisOrganizer.com scorebooks are now being used worldwide by top players, coaches, teaching pros & academies!
_______________________________________________________

Who buys this Tennis Scorebook & Organizer?   ($25.00 ea.)      Coaches, parents & players who are interested in improving tournament results! This Tennis Score Sheet & Analysis Guide gives real insight about the match performance of players and their opponents.
Available as a Player Edition for mainly USTA – ITF tournament competitors, School Edition, for High School & Junior High School team players, and College Edition, for all NCAA divisions, NAIA & NJCAA programs.



 Also available as the Professional Edition …      ($27.00 ea.) Organized so coaches & teaching pros can effectively manage multiple players at tournaments – and their calendar, business contacts & expenses. Post match instruction is greatly enhanced by analyzing the tennis score sheet data.
_______________________________________________________________________

COLLEGE & HIGH SCHOOL SCOREBOOKS !! 

  Both are 88 page, 8.5?x11?, spiral bound tennis scorebooks designed for individual player scoring in a team setting. They are great resources for coaches to collect detailed tennis score sheet data to help improve each player's performance. Using this tennis score book can lead the entire team to a more successful season!
      Individual Player Improvement = Improved Team Success !!

  These Tennis Score Book products have a very powerful & positive impact on players and their school tennis teams.                                              ($25.00 ea. book) 

  With 20+ bulk score book orders, covers can add the school logo!
($2.00 ea. book cover)
 _______________________________________________________
Questions or Comments?
E-mail about bulk orders (10+items) for pricing & shipping details…


 e-mail:
TheTennisOrganizer@yahoo.com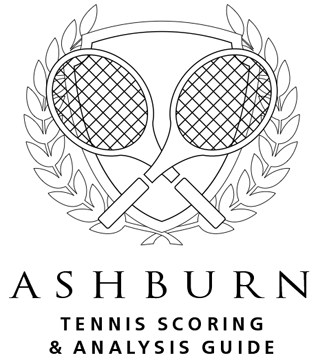 Copyright © 2010-2017 by Donald G. Ashburn, Jr.
All rights reserved
No part of this book or website may be reproduced or translated in any form or by any means, electronic or mechanical, including scanning, photocopying, recording, or any other information retrieval system, without the express written permission of the author. The only exception is for the specific use of brief excerpts in a critical review.