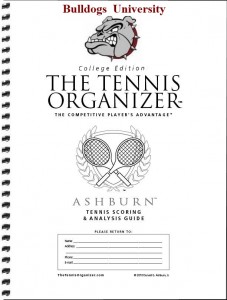 TheTennisOrganizer.com Scorebooks                      88-page, 8.5″x11″, spiral bound books containing the following sections:
(Click the blue titles below to see snapshots of each TTO page.)

 Tournament Results:  a tournament summary for easy reference.

 Tournament Planner:  manages entry information to ensure the achievement of competition goals.



 Calendar & Training Diary:  records future tournament dates and daily training efforts. (52-week open date format)

 Scouting Report:  index of opponents with scouting notes helps players develop winning game strategies.



 Tennis Score Sheets:  60 sets of point-by-point charting, up to 720 games – shot statistics, notes, & extensive match information.

 Tennis Notes:  for comprehensive narratives, journaling, or additional training diary entries.

 Contact List:  player contact info. for practice, warm-ups, or doubles play.

 Expense Summary:  table of tournament and travel expenses.



 Folder Pocket:  place to keep draw sheets, receipts, etc.

 Pre-Match Checklist:  never forget anything again when you pack!
 TheTennisOrganizer.com becomes the preferred method of communication between a player & pro. Players are encouraged by their strengths & areas needing improvement are noted for concise instruction – success will follow!
__________________________________________________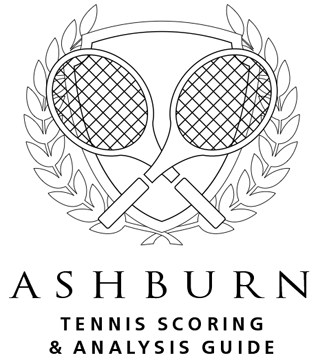 Copyright © 2010-2018 by Donald G. Ashburn, Jr.
 All rights reserved
No part of this book or website may be reproduced or translated in any form or by any means, electronic or mechanical, including scanning, photocopying, recording, or any other information retrieval or imaging system, without the express written permission of the author. The only exception approved is for the specific use of brief excerpts in a critical review.