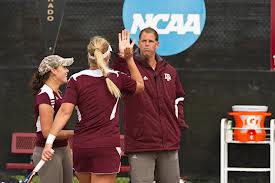 TheTennisOrganizer.com: College Coach Edition

This 112-page, 8.5″x11″, spiral bound book aids College Coaches in recording and analyzing individual match play while also managing multiple players at tournaments and training sessions.

These books are customized specifically for the team player – each section helps to organize players in every aspect of tournament planning & competition.

NCAA regulations prohibit the courtside use of electronic scoring devices to coach players – there are no restrictions on using  TheTennisOrganizer scorebooks.  A Division I coach, using the scorebook at Nationals the past two years, states they were "a tremendously valuable resource" in coaching his players during the competition – especially on court!

 Post match video analysis by players and coaches has also become an important use of the tennis score book. Players charting their own video can be a truly eye opening experience!

Several universities and schools are using TheTennisOrganizer scorebooks, with their logos on the customized covers, for their summer camp participants and coaches – a great teaching & advertising tool.
(Click the

blue

titles below to see snapshots of each TTO page.)

The Tournament Planner & Tournament Results  have layouts allowing coaches to track several players.

Additional Scouting Report pages are included and are very useful in developing winning game strategies and improving the quality of match play.

At tournaments, coaches have limited opportunities to watch any single player. Therefore, the scoring section has one Set Scoring page facing one Tennis Notes + Court Diagram page. This customized arrangement maximizes the professional's observation time for multiple players.
Since no two people remember a match the same way, it is critical to have the charting information TheTennisOrganizer provides. Players will have a much harder time arguing with your post match analysis when they see it written in this book!

The

Player Roster

forms are designed to assist coaches in tracking up to 14 separate players' cell #'s, match times, & court locations – all critical information for efficient management at busy tournaments.


Additional
Player Roster
forms are available in pads of 30 single tear off sheets (5.5″x8.5″ pages).
($7.00)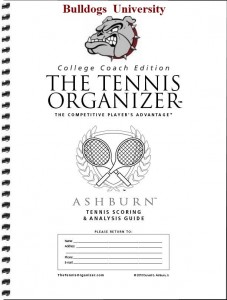 __________________________________________________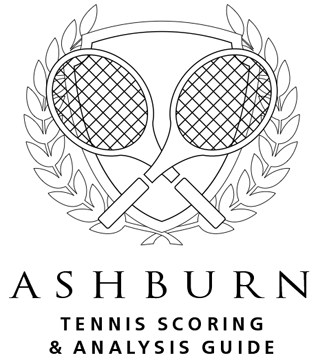 Copyright © 2010-2018 by Donald G. Ashburn, Jr.
All rights reserved
No part of this book or website may be reproduced or translated in any form or by any means, electronic or mechanical, including scanning, photocopying, recording, or any other information retrieval or imaging system, without the express written permission of the author. The only exception approved is for the specific use of brief excerpts in a critical review.