Isn't it time to give your competitive tennis player a real ADVANTAGE?

Then you must get this absolutely essential tennis scorebook & organizer – the only one customized for individual tennis player scoring and charting! 

Available Player, School, College, Professional & College Coach Editions

TheTennisOrganizer.com is the only All-in-One Tennis Score Book & works anywhere, anytime –  forget the hassles of not being able to see your iPhone or iPad screen in direct sunlight or running out of a battery charge –  both situations making your tennis scoring software and apps frustratingly useless right in the middle of an important match!

For less than the cost of one racquet restringing you can….

Chart & analyze 60 sets point-by-point (a total of 720 games!) using a powerful tennis score sheet – find out what is working & fix what isn't!

Plan & schedule tournament entries

Scout opponents – detailed charting helps formulate winning strategies

Record results of tournament matches

Maintain a 52-week training diary & journal

List contact information of players for practice, warm-ups & doubles

Even itemize expenses & have a pre-match packing checklist
All of the above is found in just one scorebook – a definite advantage!
TheTennisOrganizer.com scorebooks are now being used worldwide by top players, coaches, schools, camps, clubs & academies!
Purchase Your Edition

of

TheTennisOrganizer.com Below

…..

Who buys this Tennis Scorebook & Organizer? .. ($25.00 ea.)  Coaches, parents & players who are interested in improving tournament results! This Tennis Score Sheet & Analysis Guide gives real insight about the match performance of players and their opponents.

Click the following scorebooks to order!

 Player Edition:   for USTA – ITF tournament players, 

 School Edition:  for High School & Junior High School team players

 College Edition: for all Division I-III, NAIA & NJCAA programs.

Also available, the Professional Edition  ..……….  ($27.00 ea.)  

   THE COLLEGE COACH EDITION !!

 New and now available, the College Coach Edition  ..  ($27.00 ea.)

A new 112 page, 8.5″x11″, spiral bound tennis scorebook designed for individual player scoring in a team setting. They are great resources allowing College Coaches to collect detailed tennis score sheet data to help improve each player's performance. Using this tennis score book can lead the entire team to a more successful season!
Individual Player Improvement = Improved Team Success !!

These Tennis Score Book products have a very powerful & positive impact on players and their school tennis teams.

One of our Division I College coaches reports using the College Edition scorebook at the NCAA National Tournament the past two years and said,
"It is incredibly valuable – especially since it can be used for direct coaching on-court during a match, unlike electronic devices that are prohibited by the NCAA."  

Team coaches say the TTO Scorebook has become an essential tool in their ongoing player evaluation, training and recruiting. The books can also help revitalize and promote your tennis camps & other training programs!
__________________________________________________

 TheTennisOrganizer.com Scorebooks are very cost effective teaching and organizational resources for CTA Directors, and their affiliated coaches & volunteers, that can establish a positive revenue stream – and through the custom logo covers, have a great marketing tool that promotes their individual programs. The books are designed to be used beginning with 10 and Under participants, Middle & High School players, Competitive USTA Tournament players, and all the way up to and including College and Pro Circuit competitors!
With it's low cost and ease of use, it is an ideal vehicle for facilitating the new Diversity & Inclusion mission of the USTA, by actively involving parents, players and coaches in a cooperative training and competition process. The ultimate result will be more successful, stronger, and more cohesive programs by consistently using TheTennisOrganizer.com branded with the USTA logo!
__________________________________________________

Questions or Comments?
E-mail about bulk orders (10+items) for pricing & shipping details…


e-mail:
TheTennisOrganizer@yahoo.com

or snail mail:
TheTennisOrganizer.com
P.O. Box 30744
Edmond, OK 73003-0013
__________________________________________________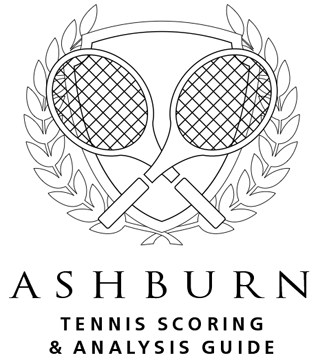 Copyright © 2010-2018 by Donald G. Ashburn, Jr.
All rights reserved
No part of this book or website may be reproduced or translated in any form or by any means, electronic or mechanical, including scanning, photocopying, recording, or any other information retrieval or imaging system, without the express written permission of the author. The only exception approved is for the specific use of brief excerpts in a critical review.
__________________________________________________
Tennis Scorebook

| 

Tennis Organizer

| 

Tennis Scorebook
Tennis Scorebook

| 

Tennis Organizer

| 

Tennis Scorebook




Tennis Scorebook

| 

Tennis Scorebook

| 

Tennis Scorebook
Tennis Score Book

| 

Tennis Score Book

| 

Tennis Score Book
Tennis Score Book

| 

Tennis Score Book

| 

Tennis Score Book
Tennis Score Book

| 

Tennis Score Book

| 

Tennis Score Book
Tennis Score Book

s

| 

Tennis Score Book

s

| 

Tennis Score Book

s
Tennis Score Sheet

|  

Tennis Score Sheet

| 

Tennis Score Sheet
Tennis Score Card

|| 

T

ennis Scoring

Sheet

||  

Tennis Score Sheet
T

ennis Score Card

|| 

Tennis Scoring

Sheet

||  

Tennis Score Sheet
Tennis Score Card

s

|| 

T

ennis Scoring

Sheet

||  

Tennis Score Sheet

s
Tennis Score Card

s

|| 

T

ennis Scoring

Sheet

||  

Tennis Score Sheet

s
Ashburn

Tennis

|  

Ashburn

Tennis

| 

Ashburn

Tennis